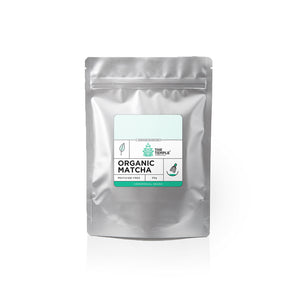 3 KEY BENEFITS
Boosts metabolism, burns calories, and torches fat!
Detoxifies naturally without negative side effects
L-Theanine enhances mood, boosts concentration and promotes relaxation
DESCRIPTION
Served in formal tea ceremonies around the world, Matcha's origins go back to 11th-century Japan, where it was considered an art form much like poetry. Used by everyone from zen monks to upper class samurais, this potent variety of green tea is organically shade grown, hand-picked, and gently dried and ground. While Matcha has a rich cultural and traditional history, our Temple Matcha Powder packages the incredible health benefits for convenient, everyday use.
As a nutrient dense supplement, Matcha has detoxifying catechins and mood stabilizing L-Theanine, in addition to its metabolism boosting properties. Matcha can even improve general physical endurance by up to 24%. Don't worry, even if you aren't facing a grueling workout, Matcha can help. Whether you're putting in time at the gym, trying to get through the marathon of another day at the office, or just sprinting through your morning trying to get the kids to school, our Matcha Temple Tea has got exactly what you need to support your healthy lifestyle, and promote mindfulness.
Our raw, organic Matcha Temple Tea comes from the Mie region of Japan, where it is sustainably grown without synthetic fertilizers, herbicides, or pesticides. Each serving packs the astonishing equivalent punch of 10 regular cups of green tea. An antioxidant powerhouse, jampacked with vitamins that will help you stay laser-focused AND feeling good, both mentally and physically? Matcha Green Tea is sure to quickly become the MVP of your daily routine.
Supports a healthy, active, mindful lifestyle, and use our Matcha Temple Tea as the first line of defense in your most empowered lifestyle!
USAGE

For maximum benefits, use at least once daily. Mix 1 scoop (2 grams) with ½-1 cup of hot water or mix into your daily Power Shake.
For best results, heat water to just under a boil. Whisk vigorously in a zigzag motion until the tea is frothy. Enjoy your matcha tea straight from the bowl.
With its bitter tasting notes, Matcha can also help you pack more punch into your Whey Protein Shake, Baked Goods or Smoothie. To aid mindfulness, drink before or after your next yoga or meditation session.
NUTRITION
HOW DO I USE MATCHA?
We love to drop the Matcha in our Shakes and Bakes. Shake and Bake Baby. However some of our friends at the PR Department love it as a simple hot tea, for that you're gonna need some hot water, a tablespoon or so of Matcha, some sort of shallow mixing bowl, and one of our handy bamboo whisks. Can you see where we're headed with this? Water meets bowl, matcha meets water, whisk gets friendy with everybody at the party. Enjoy.
WHERE DO YOU GET YOUR TEA FROM?
We pride ourselves in our products and we believe that is the biggest factor that separates us from any other specialty tea retailer. We source all of our tea from where they originate. Our Organic Matcha tea, for example, comes straight from the Mie region in Japan, where it historically originated from and has been enjoyed by the people there for almost a thousand years.
DOES YOUR MATCHA POWDER CONTAIN PESTICIDES?
Is there an alien mothership hurtling through time and space to turn us all into octopus monsters? Who knows! But at least we can guarantee there are absolutely NO pesticides in our Organic Matcha Powder, so you can feel good about at least one thing.
IS ORGANIC MATCHA POWDER SUITABLE FOR PREGNANT WOMEN?
Sorry babes, most doctors don't think it's a good idea to caffeinate your little jumping bean. You should limit your green tea intake or avoid it altogether while you've got a passenger on board.
Reviews