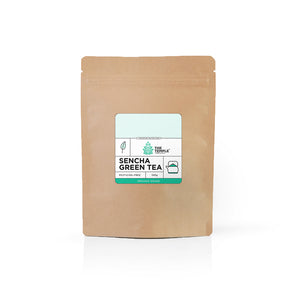 3 KEY BENEFITS
Powerful antioxidants to cleanse and purify
Combats cholesterol, diabetes and heart disease
Packed with fat-blasting EGCG polyphenols

DESCRIPTION

Sencha is a green tea from Japan, and your new secret weapon in your personal weight loss war. This robust and grassy green tea delivers a wallop of flavor alongside its extensive list of health benefits. Sencha Tea is jam-packed with antioxidants and polyphenols, which is where most of its benefits derive from. Between boosting your metabolism to improve fat-burning capabilities, and helping control blood sugar levels, Sencha basically does it all. It's even lightly caffeinated, making it the perfect, healthy alternative to your morning coffee.

As if that weren't enough, Sencha and other green teas are also beneficial in lowering unhealthy cholesterol, due to a high EGCG content,preventing coronary artery diseases, preventing cancer, improving skin health, and delaying signs of aging. It's no wonder our Japanese friends have been drinking it by the boatload for centuries!

Made from high quality, whole Green Tea leaves and buds, our Organic Sencha from Japan is oxidized for less than a minute before being rolled into cylinders, dried, and finally fired for preservation. It's this last step that keeps it tasting fresh from the moment it's picked to the second you taste your first freshly steeped serving.

We guarantee our Organic Sencha Tea has never touched synthetic fertilizers, herbicides or pesticides. You can rest easy knowing it was sustainably grown, with respect to the ecosystems and people that support it, via Mie Perfecture. Our organic Sencha will bring you all the ancient health benefits of green tea in a convenient package designed for your busy, modern life.

USAGE
To maximize your health benefits, drink at least once daily. Enjoy hot or chilled, the world is full of options!
NUTRITION
HOW DO I USE ORGANIC SENCHA TEA?
Unlike that speech you gave at your cousin's wedding, Sencha tea doesn't require much preparation. Boil some water (for best results, let it cool to 80 degrees just a bit before you move onto the next step), add some leaves, let it brew about 90 seconds, and VOILA! Masterpiece.
WHERE DO YOU GET YOUR TEA FROM?
We pride ourselves in our products and we believe that is the biggest factor that separates us from any other specialty tea retailer. We source all of our tea from where they originate. Our organic Sencha green tea, for example, comes straight from the Mie region in Japan, where it historically originated from and has been enjoyed by the people there for almost a thousand years.
DOES YOUR SENCHA TEA CONTAIN PESTICIDES?
Is the Pope a bear watching trees fall in the woods? The answer to both questions is a resounding no. Here at The Temple we are all about organic love.
IS GREEN SENCHA TEA SUITABLE FOR PREGNANT WOMEN?
Sorry babes, most doctors don't think it's a good idea to caffeinate your little jumping bean. You should limit your green tea intake or avoid it altogether while you've got a passenger on board.
Reviews