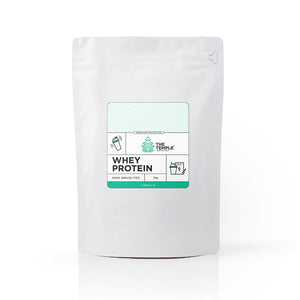 3 KEY BENEFITS 
GMO-free, premium whey protein from grass-fed cows

Contributes to lean muscle growth & recovery

Nutrient dense for satiety with multiple flavor options

PRODUCT DESCRIPTION

Many of us know that protein contributes to the growth and maintenance of lean muscle mass and supports recovery post-workout, but getting sufficient protein through diet alone can be difficult for even the most dedicated clean eater. Luckily, The Temple's Whey Protein provides all the protein you need to transform your body into a lean, fat-torching machine, at an exceptional value!
The quality of our whey protein powder starts at the grassroots level. No, really, we only use milk from grass-fed cows, ensuring our product is hormone and GMO-free. As a high protein, low fat and low carbohydrate product, it's suitable to any healthy lifestyle. It also happens to be low in lactose and cholesterol, meaning it won't wreak havoc on your internal systems.
Add it to your favorite baked goods for an extra power punch of protein, or mix into your breakfast shake to help whip your morning routine into shape. Whether you're looking to slim down, bulk up, or just live a more balanced life, our whey powder can complement your routine and support your goals!  
To support our product's claim to premium fame, we use only soy-free and GMO-free sunflower lecithin, instead of the industry's conventional soy-based lecithin, to give you the healthiest and cleanest whey protein concentrate on the market. Our whey is extracted from grass fed hormone free, fresh cheese, so it's more nutrient-dense than most on the market, and boasts a higher concentration of essential amino acids, not to mention an awesome 14% higher leucine content.
Instantised for easy mixing, it is available in 4 delicious flavours, ranging from "Sri Lanka Vanilla" to "Berliner Haselnüss" and "Koh Phangan Coconut"!
USAGE
Can be added to any of your favorite recipes! Mix 1-2 scoops into water or milk for a convenient protein shake. Blend with fruits, veggies, and yogurt for a pick-me-up shake, or bake directly into your favorite high-protein snacks. The sky's the limit!
HOW TO BLEND
Step 1
Choose your liquid base (milk, almond milk, coconut water, water, etc)
Step 2
Fill cup to top with liquid and toss it all into a blender
Step 3
Blend and pour everything back into your cup - you're set!
NUTRITION - VANILLA AND BANANA
NUTRITION - CHOCOLATE
DOES YOUR WHEY PROTEIN POWDER CONTAIN GMO'S?
Our hardworking grass-fed cows want to let you know there's no "whey" they'd let GMOs into their protein powder...
DOES YOUR WHEY PROTEIN POWDER CONTAIN NUTS?
The only nuts around our whey products are the employees in the shipping department... those guys spend waaaay too much time alone.
HOW DOES YOUR WHEY PROTEIN DIFFER TO OTHER PROTEIN SOURCES?
Let's just say whey is easy, if you know what I mean... Easy to add to your daily routine, easy to digest, and easy to see big results. Jeez, what did you think we were talking about?
Reviews