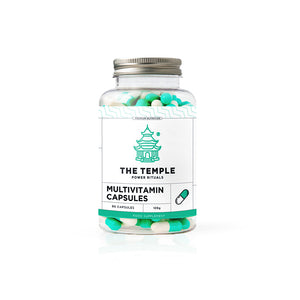 3 KEY BENEFITS
Premium, natural source of your daily vitamins
High absorption through vegetarian and gluten free capsules
No fillers, just a high quality A-Z multivitamin!

DESCRIPTION
Way, way back in the day, our ancestors were able to get most of their essential vitamins and minerals through foraging. Unfortunately, in today's fast-paced, modern world we can't forage from sun up to sundown, which makes it harder to cover every base. The sad fact is even a healthy, well-balanced diet doesn't provide the recommended daily allowance (RDA) of many vitamins.
That's why we've formulated our all-in-one, premium Multivitamin capsule. Containing 33+ active ingredients vital to keeping your body healthy, happy, and highly functional, these easy-to-swallow capsules are a convenient addition to any wellness regimen. Unlike most multivitamins, our proprietary blend is specifically designed to meet the daily needs of an active individual. Ingredients contribute to boosting your metabolism, supporting your immune system, and synthesizing essential amino acids, among other things.
In addition to the building blocks of most multivitamins (Vitamins A, B-Complex, C, D, E, and K), The Temple's Multivitamin capsule contains probiotics to support internal health, Co Enzyme Q10 for joint support, and a combination of supplements and minerals designed to reduce fatigue and support an active, energetic lifestyle. Why pay for multiple products when you can rely on one simple capsule to pack all the punch you need?    
With our Complete Multivitamin Complex, we're taking the guesswork out of wellness. Suitable for anybody looking for a high quality vitamin and mineral supplement, it's designed to help you optimize your life!

USAGE

Take 1 capsule three times per day with food or in a shake. Ideally consume with breakfast, lunch & dinner.

NUTRITION
Please let us know if you have any questions about our supplements.
Reviews