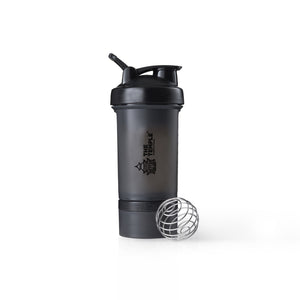 3 KEY BENEFITS


700ml shaker for on-the-go nutrition

Perfectly mixes shakes, smoothies and more

No-spill screw top means easy clean-up
DESCRIPTION
With so many blenders, shakers, and mixers to choose from, your life could easily start to look like a bad infomercial. We want to keep things simple. That's why we're introducing our Temple Shaker and taking the guesswork out of getting a high quality product.
Designed for on-the-go action, the Temple Shaker is strong enough for daily use, but lightweight and easy to both carry and store. An innovative mesh insert ensures your smoothies and shakes are perfectly blended every time, because we know if you wanted to be chewing on chunks of protein powder you wouldn't bother buying a shaker in the first place.
It's easy to clean and dishwasher safe. Plus a secure, no-spill screw top lid makes it perfect for the gym, the office, or even your daily commute. Finally, you can fuel up without fear of stains, spills, or splashes.
USAGE
Add the liquids, powders, and supplements that keep you energized, secure and close the lid (trust us, this step is important), and shake to your heart's content!
DOES YOUR WHEY PROTEIN POWDER CONTAIN GMO'S?
Our hardworking grass-fed cows want to let you know there's no "whey" they'd let GMOs into their protein powder...
DOES YOUR WHEY PROTEIN POWDER CONTAIN NUTS?
The only nuts around our whey products are the employees in the shipping department... those guys spend waaaay too much time alone.
HOW DOES YOUR WHEY PROTEIN DIFFER TO OTHER PROTEIN SOURCES?
Let's just say whey is easy, if you know what I mean... Easy to add to your daily routine, easy to digest, and easy to see big results. Jeez, what did you think we were talking about?
Reviews