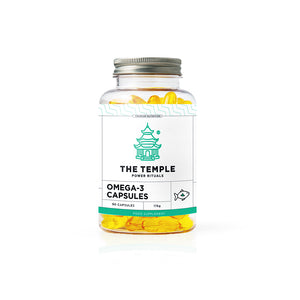 3 KEY BENEFITS
High strength EPA 18% & DHA 12%
Keeps your heart healthy and functional
Helps maintain normal blood cholesterol levels
DESCRIPTION
It's true, essential fatty acids are just that… essential. If we want our bodies to grow normally and function correctly we need to make sure we're getting the EPA (eicosapentaenoic acid) & DHA (docosahexaenoic acid) that contributes to growth and development, promotes normal heart function, and supports brain function. Unfortunately, humans aren't able to synthesize these essential fatty acids, which means we get them through ingestion. These days, few if any of us are able to naturally consume the amount of fish it would take to meet minimum requirements.
That's why our premium Omega 3 capsules are the awesome solution you didn't know you needed. Containing only high quality, naturally derived fish oils, each softgel contains 180mg EPA and 120mg DHA. That's a high potency blast of essential fatty acids to support joint health, boost brain function, and keep your heart healthy. We offer all that at an affordable price, so you never have to sacrifice quality to fit your budget.
USAGE
Have 1 capsule 1-3 times per day with food
NUTRITION
Please let us know if you have any questions about our supplements.
Reviews